Blu-ray Player software is aimed at helping users play and watch Blu-ray Movies on computer with outstanding and perfect video quality at home.
Blu-ray Player Software
The perfect companion for Windows!
Combined with the beautiful interface, Blu-ray Player software for Windows is the perfect app to play full HD 1080p Blu-ray movies on computer. You'll get a wide-screen movie theater experience without leaving the house. This Blu-ray Player software for PC can smoothly play Blu-ray disc, Blu-ray folder and Blu-ray ISO image file. It's powerful playback function also allows you to play video, music and even picture/photo.
Deinterlacing function is another brilliant feature of this amazing Blu-ray Player software for PC. With Blu-ray Player, you can adopt many ways to deinterlace video. Play Blu-ray movies in different screen size, select audio track, video track and subtitle track, set audio channel and audio device and capture scenes from Blu-ray movie.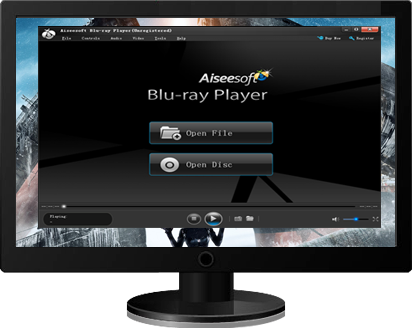 Feast Your Eyes On Full HD 1080p Blu-ray movies
Powerful playback function

This Blu-ray Player software for PC can not only play Blu-ray disc, Blu-ray folder, Blu-ray ISO image files but also help Windows users smoothly play video and audio files in popular formats. It is a very easy thing for you to play HD Blu-ray movies, popular videos and music on PC with this Blu-ray Player for Windows. Enjoy full-HD picture quality, smooth motion performance and unlimited high-quality listening pleasure at the comfort of your own home.

User-friendly design

With user-friendly design, Blu-ray Player can play Blu-ray discs chapter by chapter or title by title and enable users to choose their preferred language, select video track or audio track and set audio channels or audio device. The subtitle track also can be selected if your Blu-ray movies or video files contain multiple subtitles. You can play back video in five playback modes: Half Size, Normal Size, Double Size, Full Screen and Fit to Screen.

Small but useful features

You can take a snapshot of your video and save it as JPEG, PNG or BMP image format. This powerful Blu-ray Player software offers Windows users multiple methods to deinterlace movies such as Discard, Blend, Mean, Bob, Linear, X, Yadif, Yadif (2X), Phosphor and Film NTSC (IVTC). With its simple and beautiful interface, this Blu-ray Player for PC is very easy for you to operate and enjoy the perfect watching experience.