Blu-ray Player software is aimed at helping users play and watch Blu-ray Movies on computer with outstanding and perfect video quality at home.
How to Play Blu-ray discs on PC?
Few computer systems are sold with Blu-ray drives, not to metion the software necessary to play Blu-ray movies on computer, even though Blu-ray has become more and more popular. Actually there is high demand for Blu-ray player software thanks to movie buffs and casual viewers who like to enjoy the latest Blu-ray movies on their computer.
Blu-ray Player software enables you to view Blu-ray movies on any desktop computer, notebook and home theater system with an integrated personal computer. But watching Blu-ray movies on your computer, either desktop or laptop, is not as simple as downloading the Blu-ray Player software and inserting a Blu-ray disc into your PC. Owing to the fact that the old optical drive cannot read Blu-ray discs, Sony's licensing on Blu-ray, and Blu-ray discs are encoded with programming beyond that of a normal DVD, such as region code, AACS or BD+ from the latest bluray disc, etc., it is pretty difficult to directly play Blu-ray discs on your PC.
Equipment for Blu-ray playback on PC
If you want to play Blu-ray discs on PC, make sure that your components must be compatible with Blu-ray, because the smoothly playback of Blu-ray disc requires rather robust hardware as a strong foundation. Check what you need:
1. PC hardware
Operating System: Microsoft® Windows XP (SP2 or later), Windows Vista, Windows 7, Windows 8;
Processor (CPU): Intel Core2 Duo 2.4GHz processor or equivalent AMD Athlon™ processor or higher;
Memory: 512 MB RAM or higher recommended;
Hard Disk Space: 250 MB of free disk space;
HDCP-Compliant Monitor: A monitor with HDCP support is also required for Blu-ray playback. Monitors with DVI or HDMI input generally support HDCP while monitors with VGA input typically do not support HDCP.
HDCP-Compliant Graphics Card: check the specs of your card is HDCP-compliant; if not, you'll need to get one that is compliant in order to play Blu-ray movies on PC. Most laptops manufactured in 2007 or later have a video card with enough graphics processing capability to play Blu-ray disc.
Blu-ray Drive: A internal or external Blu-ray drive. A Blu-ray supported disc drive is necessary in order to play Blu-ray disc on PC due to different technology used in BDs and DVDs. Make sure the USB of the Blu-ray drive is 2.0 or above. Most new operating systems offer compatibility and are equipped with the Blu-ray drive.
2. Blu-ray Player software
In order to play Blu-ray disc on PC, both hardware and software are necessary. Since Windows operating systems do not have native Blu-ray support, you won't be able to watch a Blu-ray movie with Windows Media Player even though you have all the right hardware. Thus, BD player software is required. Luckily, that is just what we provide. Click the below button to download Blu-ray Player software for Microsoft Windows.

Play Blu-ray Disc on PC
Step One: Install Blu-ray Player software on computer
Download and install Blu-ray software for Windows on your PC and then run it, you will see the below interface. Here we'll show you how to play Blu-ray on Windows 7. If your computer is Windows XP (SP2 or later), Windows Vista or Windows 8, you can use the same method to play and watch Blu-ray movies on PC.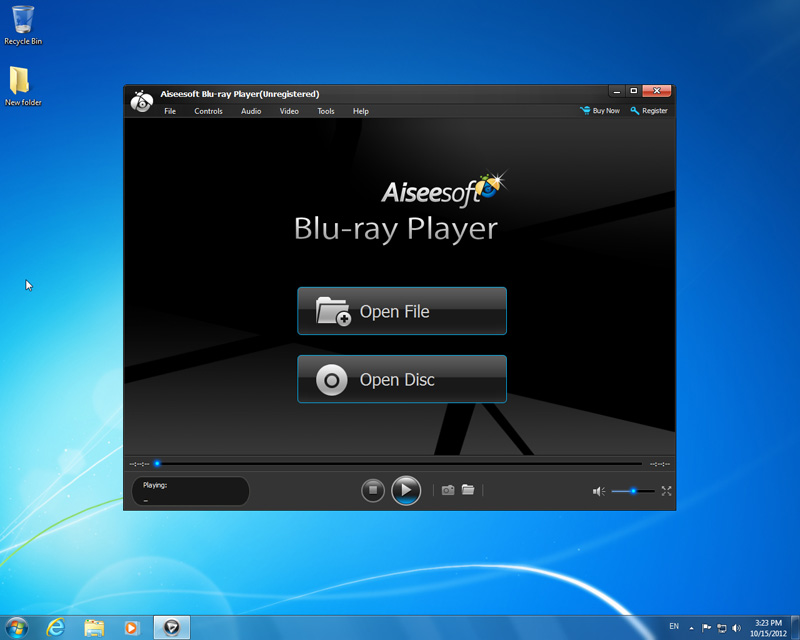 Step Two: Play Blu-ray disc on your computer
As you see, there are two large buttons on the interface. To play Blu-ray disc on PC, just click "Open disc" button, select Blu-ray drive in the open window, and then click "OK" button to load Blu-ray directly. After loading Blu-ray disc, this Blu-ray Player software for Windows can automatically play Blu-ray movies automatically.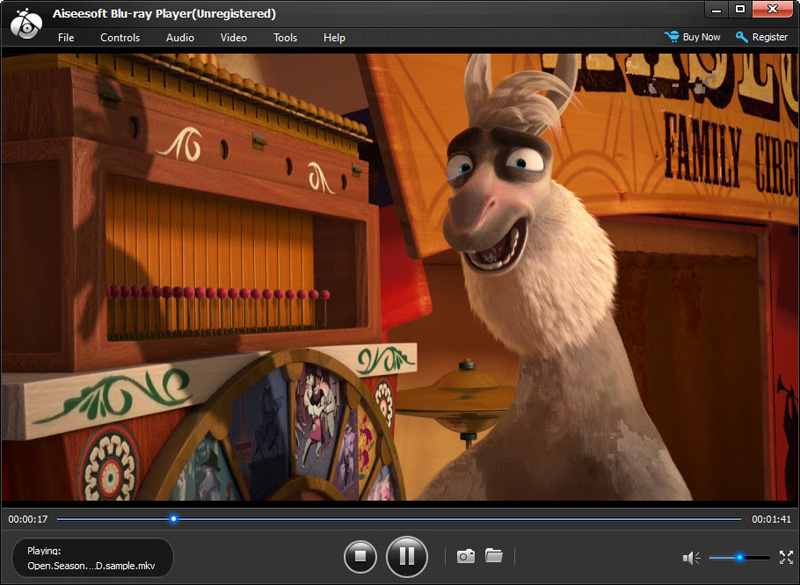 Extremely easy, isn't it? Enjoy yourself!